SOUTHERN LEAGUE DIVISION ONE CENTRAL
Yax

ley       2

          

St Neots

Town        2  
Despite playing against ten men for all but the first five minutes of the match, St Neots were unable to take advantage and returned down the A1 with just a single point.   Manager Barry Corr clearly has some work to do before his side can be regarded as the finished article as they look short in several areas of their game.   They do not create enough chances and their defence still looks vulnerable but on the plus side they did claw their way back from conceding two goals in the opening eighteen minutes of the match. 
The one team change saw striker Ryan Robbins make his league debut after completing his suspension for last season's misdemeanours but he looked out of touch and maybe short of match fitness, and he was substituted in the second half after picking up a harsh yellow card for a mistimed tackle, by Sam Gomersall the player he had replaced in the starting line-up.   Hard working Leon Lobjoit, lacking in support, kept up his goal-a-game record and was unlucky with a second effort well saved by stand-in goalkeeper Joel Earps.    St Neots have failed to beat Yaxley in four competitive meetings since the Cuckoos earned promotion to the Southern League.
It was a bitter-sweet start to the match for the host side.  After taking the lead in their first attack after 90 seconds when Bradley Gothard was left unmarked to knock in a Joe Butterworth free kick, they saw goalkeeper Aaron Butcher despatched for an early bath in St Neots first sortie  as he handled outside the penalty area, and with no replacement keeper amongst their five substitutes they were forced to put midfielder Joel Earps between the posts.     This gave St Neots the opportunity to dominate possession but after Leon Lobjoit had headed over the bar, there was a second setback for the visitors as Dequaine Wilson-Braithwaite lost possession 35 yards from goal and Jordan McLeod took full advantage beating goalkeeper Louis Chadwick with a low shot.   To come back from this early two goals deficit showed good character but St Neots made hard work despite their numerical advantage and goalkeeper Chadwick was forced into an important save from McLeod as he broke clear again after 20 minutes, to keep the score within reasonable bounds.
St Neots foothold back in the match came after 28 minutes when a Jake Battersby cross was not cleared by the home defence and from the edge of the area, Aaron Smith hit a low shot past the stand-in keeper. That should have boosted St Neots' confidence but they struggled to find a rhythm and failed to test Earps in the home goal.   The best effort by the visitors in the remainder of the first half was a fierce shot by skipper Lee Watkins that was parried by the home keeper.
St Neots needed a good start after the break to boost their confidence but it never arrived and when Ryan Robbins was booked early on they introduced Sam Gomersall to replace him but gradually St Neots did seem to grow in confidence and after 73 minutes they drew level courtesy of a well fashioned move.   Barry Corr won the ball and carried it over the half-way line to feed the overlapping Liam Bennett and his pinpoint cross picked out Leon Lobjoit who made no mistake with a crisp headed finish.
The Saints should then have gone on to win because Yaxley really created nothing in the final quarter of an hour, although they defended in numbers and conceded a string of free kicks in their determination to hang on their unlikely point.   Now St Neots needed some penetration and creative finishing to go with the superior possession, but it never materialised.   They sent on Ingi Hassani to bolster their attack but although the substitute clipped the crossbar with an angled shot and Battersby went close the only real scare for Yaxley came when Tom Dickens moved up to shoot powerfully into the side netting in added time.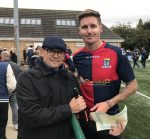 Today's Saints Supporters Man of the Match – Barry Corr       
St Neots Town:  Chadwick, Bennett (L), Battersby, Wilson-Braithwaite, Dickens, Corr, Watkins,  Smith, Robbins, Lobjoit, Sutton
Subs:  Gomarsall (for Robbins 57 mins), Hasani (for Sutton 76 mins), Dallas, O'Hara, and Martin.
Cards:  Robbins (Y – 53 mins)
Goals:  Smith (26 mins), Lobjoit (73 mins)
Yaxley:  Butcher, Steel, Dickerson, Butterworth, Johnson, Gothard, Earps, Nolan, Sanders, McLeod, Bennett (S)
Subs:  Bailey (for Bennett 59 mins), Waumsley, Stebbing, Hart, and Gow.
Cards:  Butcher (RED – 5 mins), McLeod (Y – 45 mins, Butterworth (Y – 82 mins), Johnson (Y – 90+4 mins)
Goals:  Gothard (2 mins), Macleod (26)
Referee:  Zac Kennard-Kettle (Lincoln)
Attendance:       142
John Walker