F A CUP PRELIMINARY QUALIFYING ROUND
Soham Town Rangers    3 

 

    St Neots Town     2 
Defensive frailty caused St Neots to be dumped out of the FA Cup at the second hurdle by a resolute but not impressive Soham Town Rangers.   It was a case of deja-vu for the visitors because their last FA Cup meeting with Soham was at Julius Martin Lane thirteen years ago and had resulted in a 5-2 reversal.
On that occasion St Neots led 2-1 at half time as they did in this match, and on that previous occasion they conceded four second half goals to bow out. This time they only conceded twice after the break but that was enough to see their Cambridgeshire hosts through to the next round.
Manager Barry Corr will clearly be working on his sides' defensive skills at their next training sessions because all three Soham goals resulted from shoddy defensive play and that was hard on striker Leon Lobjoit who took his FA Cup tally to four goals in two games only to finish on the losing side.   Soham fielded two former players in their starting line-up in Declan Rogers and Ryan Auger and had two more on their bench (Sam Mulready and Alfie Connor) and ironically the winning goal came from slick co-operation by two of those former Saints.   St Neots were without Myles Cowling who was unfit and Ryan Robbins serving the second of his three matches suspension carried over from last season, so the only change in their starting line-up was in defence where Dequane Wilson-Braithwaite was preferred to Tarik Dallas.
St Neots began tentatively and after Jake Andrews had sent Soham's first effort wide, they took the lead after four minutes before St Neots had ventured into the home half of the field.   It came from the home side's second corner swung in by Declan Rogers and at the far post Ashley Walter rose high to head past Louis Chadwick.   However, that was a good wake-up call for the visitors who settled down to produce some attractive play and set up openings.   Jake Battersby forced a full length save from Josh Pope after 19 minutes and in the next attack Leon Lobjoit was harshly booked after colliding with the home keeper contesting a 50-50 ball.
Leon Lobjoit perfectly responded six minutes later as he collected a superb cross field pass from Liam Bennett to audaciously chip the ball over the home keeper to level the scores.
Better was to follow ten minutes later when he manufactured the best goal of the match with a curling free kick from wide on the right that bamboozled the home defence as it crept in just under the cross bar.   It was a lead that St Neots' play had deserved, and they saw out the remaining period before the break looking confidently in control of the exchanges.
The second half could not have started worse for St Neots. Like they had in the first half, they looked extremely vulnerable and inside three minutes of the restart they had conceded their slender lead as an innocuous looking chip to the far post found the head of Toby Andrews and he levelled the scores past a bewildered looking defence.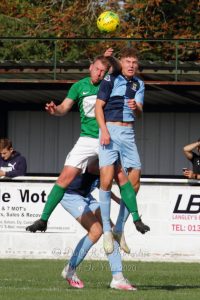 Now both sides went in search of the initiative and when St Neots won a free kick 25 yards out in a central position Lobjoit was only inches from completing a hat trick as his effort only just cleared the cross bar with the home keeper beaten.   However, with their rather physical approach seeming to unsettle St Neots, the home side began to dominate play at the expense of a couple of nasty tackles earning yellow cards.   A series of substitutions saw the rhythm of the match broken up and it was Soham who seemed to prosper from some very scrappy exchanges.   An error by Louis Chadwick gifted Andrews with a free shot on goal but to the relief of the St Neots' keeper his shot was too high.   From a Battersby corner Tom Dickens won the ball in the air but sent it wide of target but then the home side made what was to prove a most significant substitution.
They introduced Sam Mulready up front and within eighteen minutes of his introduction he dived bravely at full length to turn in a Ryan Auger cross, to net the winning goal as the pair of former Saints punished their former colleagues.   St Neots finished strongly but their efforts were too little too late as skipper Lee Watkins skied a late free kick over the cross bar.
Photos Courtesy of David RW Richardson @RichInVideo
St Neots Town:  Chadwick, Bennett, Battersby, Goode, Dickens, Wilson-Braithwaite, Sutton, O'Hara, Gomarsall, Lobjoit, Watkins
Subs:  Hasani (for Sutton 71 mins), Dallas (for Goode 74 mins, Smith (for Gomarsall 86 mins), Corr and Martin.
Cards:  Lobjoit (Y – 20 mins), Gomarsall (Y – 42 mins)
Goals:  Lobjoit 2 (26 & 36 mins)
Soham Town Rangers:  Pope, Conway, Kelly, Kaye, Watson, Walter, Andrews (J), Auger, Mason, Rogers,
Andrews (T)
Subs:  Chaffey (for Watson 59 mins), Mulready (for Mason 62 mins), Carden (for Andrews (J) 76 mins), Connor, Okay, James and Groves.
Cards:  Andrews (J) (Y – 45 mins), Watson (Y – 55 mins), Kaye (Y – 60 mins), Conway (Y – 88 mins)
Goals:  Walter (4 mins), Andrews (T) (48 mins), Mulready (80 mins)
Referee:  Thomas Kelly (Cambridge)
Attendance:       200
John Walker